"It is always rewarding to reflect on values and intentions, especially in the presence of others that are ready and eager to do the same."  – Anne Hancock
"You have created a wonderful space that builds a community where I believe that each person feels the trust to be able to be themselves. At the same time, there was a space to be with myself. Thank you so much!"  – Barb Alvarado
Sign up for my newsletter – the best way to learn about upcoming retreats
Come to Your Senses
Sunday, June 5 , 2016, 9:30 am to 12:00 pm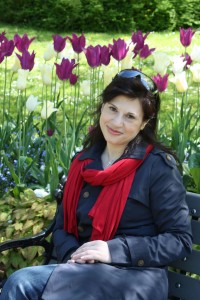 Olbrich Gardens, Madison, WI
Come to your senses… Learn how to use your senses to come fully into the present moment and connect deeply with the beauty of the natural world around you.
We often try to think our way out of problems and into the right answer, and often end up just spinning our mental wheels. Allowing ourselves to relax into mindful awareness creates space for our own innate wisdom to rise up…and if we become quiet and calm, we can actually hear it.
During the retreat, you will have the opportunity to:
Awaken your senses in beautiful gardens alive with color, birds, textures and scents
Learn effective practices to use right away
Enjoy the company of the group in balance with solo time for contemplation
Slow down and listen to your own innate wisdom
Your $45 registration includes a  journal and pen, an organic snack, group learning and solo reflection time
To register: Use the PayPal button on the top right of this page to secure your place (limited to 10 participants – fills fast!). I will contact you with further information and details. (If you prefer an alternate form of payment, send an email or call me using the information at the bottom of this page.)
Coming from the Milwaukee area? I can help arrange carpooling.
This retreat is open to all people ages 18 and older.  Activity Level = Easy
Accessibility = The Olbrich Gardens are wheelchair accessible.
Immunity-to-Change Personal Workshop 
Have you ever wondered why it's so hard to make changes you want to make and know would make your life better? Learn what's really at work – and it's not lack of willpower!
If you're looking for something different, this 3-hour individualized workshop is for you.
Success Story:  A woman who struggled with getting to her meditation group asked for help. She didn't understand why she was avoiding something she valued and knew was extremely beneficial for her. After her Immunity-to-Change session, she started attending regularly and continues to do so three years later.  Learn more about Immunity-to-Change.

Custom Retreats
The very word "retreat" speaks of rejuvenation, refreshment and renewal. Stepping out of the routine of daily life now and then is so vital to our well-being.
I create custom retreats for individuals, couples (however you define yourselves), and groups. Whether you're a small school staff, work team or someone who wants to get out into the woods, I can help you design what's right for you. Just contact me to have a free, no obligation discussion about the possibilities.
I work with a number of partners to outfit your day if you're interested in things like kayaking or other outdoor adventures that require equipment or specialized instruction. I supply the coaching and facilitation, and my partners supply the outfitting and gear.
Women's Rock Climbing Retreat
Three women of varying ages went to Devils Lake with me to rock climb. All were in the "beginner" category, and they had various reasons for coming. All three wanted to leave with a feeling of accomplishment, and they sure did! I have a gentle way of teaching that allows people to gradually ease into climbing and expand their comfort zone so they feel challenged yet safe at all times. Like most of my retreats, there was time for group reflection, solo time, and lots of laughter!
Staff Team Building Retreat
Four teachers who are new to each other and starting a charter school this fall spent the day at a lakeside park engaging in a variety of team building activities. The activities were designed to engage the mind, body and spirit, create trust, facilitate relationships, understand each person's professional and personal styles, and just have fun together. By the end of the day, we all knew more about each other than we did before, and the team was more connected and invested in each other's success.
Client Retreat
Dan Gilipsky, a financial advisor, invited his clients to a cross-country skiing and coaching retreat with me. Our goal was to allow his clients to meet and connect with each other, enjoy a day of ski instruction and time on the trails, and reflect on their personal and financial goals.
Solo Retreat
A coaching client wanted a retreat day for herself out in nature. We met at a state park, and I facilitated a day of solo journaling, walking, and time to sit and reflect in beautiful places. Her solo time was interspersed with coaching conversations with me. She left the day with one hugely important insight that she didn't even know she was looking for.